Faculty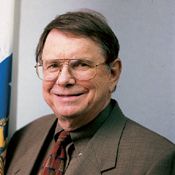 Arthur D. Wolf
Professor of Law
Education:
A.B., Tufts University
LL.B., Columbia Law School
Professor Wolf, who clerked for New Jersey Superior Court Judge Theodore I. Botter, served as a Trial and Appellate Attorney in the Civil Rights Division of the United States Department of Justice. A former national staff member for the McGovern presidential campaign and Study Supervisor at the Vera Institute of Justice, he also spent five years as Special Counsel to Representative Robert F. Drinan, United States Congress, and as a consultant to the National Committee Against Discrimination in Housing, Inc. Professor Wolf began teaching here in 1978. He has taught 14 different courses in our curriculum.

Among his writings are a three-volume treatise, Court Awarded Attorney Fees (published in 1983 with current updates), which he coauthored, and articles on supplemental jurisdiction in the federal courts. Professor Wolf has a special interest in federal courts, legislation, and immigration law.

As Director of the Law School's Institute for Legislative and Governmental Affairs, he has brought to campus naturalization ceremonies for new citizens, candidate debates for elective office, hearings of State legislative committees, and commemorative events to celebrate Citizenship Day and Constitution Day, among other noteworthy programs. In Spring 2017, the Institute sponsored a semester-long series of public lectures entitled, "President Trump: The First 100 Days."
View a listing of recent works where Arthur D. Wolf is mentioned or quoted
Administrative Law

Antitrust Law

Civil Procedure

Federal Courts & Jurisdiction

Immigration Law

Legislation

Remedies: Injunctions
Books
MARY FRANCES DERFNER & ARTHUR D. WOLF, COURT AWARDED ATTORNEY FEES (1997) (annual supps., 1998-2002) (3 volumes). Cited by
Journal Articles
Arthur D. Wolf, Preliminary Injunction Standards in Massachusetts State and Federal Courts, 35 W. NEW ENG. L. REV. 1 (2013). SSRN Digital Commons Cited by
Arthur D. Wolf, Comment on the Supplemental-Jurisdiction Statute: 28 U.S.C. 1367, 74 IND. L.J. 223 (1998). SSRN Digital Commons Cited by
ARTHUR D. WOLF, FUNDING FEDERAL CIVIL RIGHTS ENFORCEMENT: A REPORT OF THE UNITED STATES COMMISSION ON CIVIL RIGHTS (1995).
Arthur D. Wolf, Codification of Supplemental Jurisdiction: Anatomy of a Legislative Proposal, 14 W. NEW. ENG. L. REV. 1 (1992). SSRN Digital Commons Cited by
Arthur D. Wolf, Consolidating the Preliminary Injunction Hearing and Trial: Changing the Rules in the Middle of the Game, 11 W. NEW. ENG. L. REV. 209 (1989). SSRN Digital Commons Cited by
Arthur D. Wolf, Towards a Uniform Law of Attorney's Fees, 8 ATT'YS FEE AWARDS REP. 1 (1985).
Arthur D. Wolf, Preliminary Injunctions: The Varying Standards, 7 W. NEW. ENG. L. REV. 173 (1984). SSRN Digital Commons Cited by
Shorter Writings
Art Wolf, Trump's Efforts to Build His Wall Violate the U.S. Constitution, AF-AM POINT OF VIEW, June 1, 2019, at 23.
Arthur D. Wolf, Relighting the "lamp beside the golden door": How Trump's Immigration Policies Ignore the Legal Protection of Unlawful Entrants, May 1, 2017, at 23.
Arthur D. Wolf, Military Order Brings Mixed Feelings, W. MASS. L. TRIB., July 2002, at 7.