Bear The Comfort Dog
Bear is Western New England University Police Department's first Comfort Dog! Bear is a Golden Retriever who joined our department in July of 2022. He came from Davis Pond Goldens in Eddington, Maine. Bear was the first of five to be born on May 6, 2022, at 4:45 PM. Bear's registered AKC name is "Davis Pond's Written in the Stars."
His current loves include:
Belly rubs
His orange squeaky ball
Treats of any kind
Digging in his water dish
Paddleboarding
His Bernese Mountain Dog Brother, Ragnar
Ice cubes 
Want Bear To Attend Your Next Event? Click here to fill out a Request!
Bear is currently on what we call a "split" shift. That means each work week, he works two 3:00 PM to 11:00 PM shifts and two 11:00 PM to 7:00 AM shifts. 
Looking for additional support? Contact Counseling Services.
Spot Bear on campus and say "Hello!"
Bear's Role
Bear is a valuable asset to Western New England University Police Department resources. The function of a Comfort Dog is to provide interaction during investigations involving children or adults to reduce anxiety and increase communication between the adult or child victim/witness and investigators, to provide comfort for people during times of crisis, and to provide aid and comfort to individuals, groups, and communities impacted by violence, tragedy, or traumatic events.  
Bear is also a valuable tool in fostering dialog and communication between the police department and the community we serve.  Bear has also already shown himself to be an amazing asset within the Department's Community Policing Effort. Bear has already stolen the show at multiple Public Safety events including floor programs in our residential dorms and Student Senate's Public Safety Meet and Greet.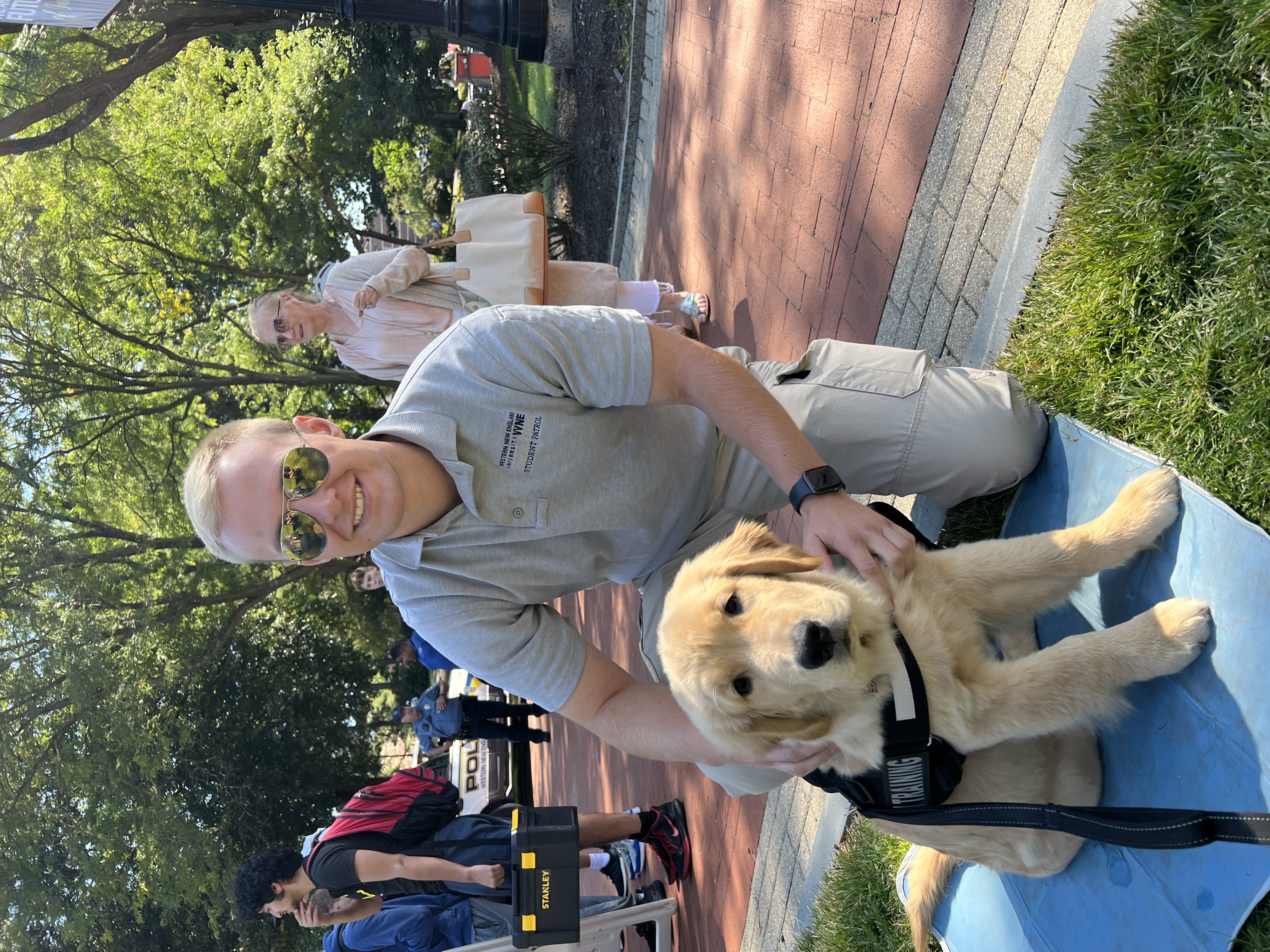 Bear Sightings
Bear is currently scheduled to attend the following events! Will we see you there?
June 14, 2023 SOAR Games for SOAR group A 4:00 PM
June 20, 2023, SOAR check-in for SOAR group B 8:30 AM- 9:30 AM
June 22, 2023, SOAR Games for SOAR group C 4:00 PM
June 26, 2023, SOAR Games for SOAR group D 4:00 PM
June 28, 2023, Campus Resource Fair for Transfer SOAR 11:30 AM - 1:00 PM
Want Bear To Attend Your Next Event? Click this link to fill out a request!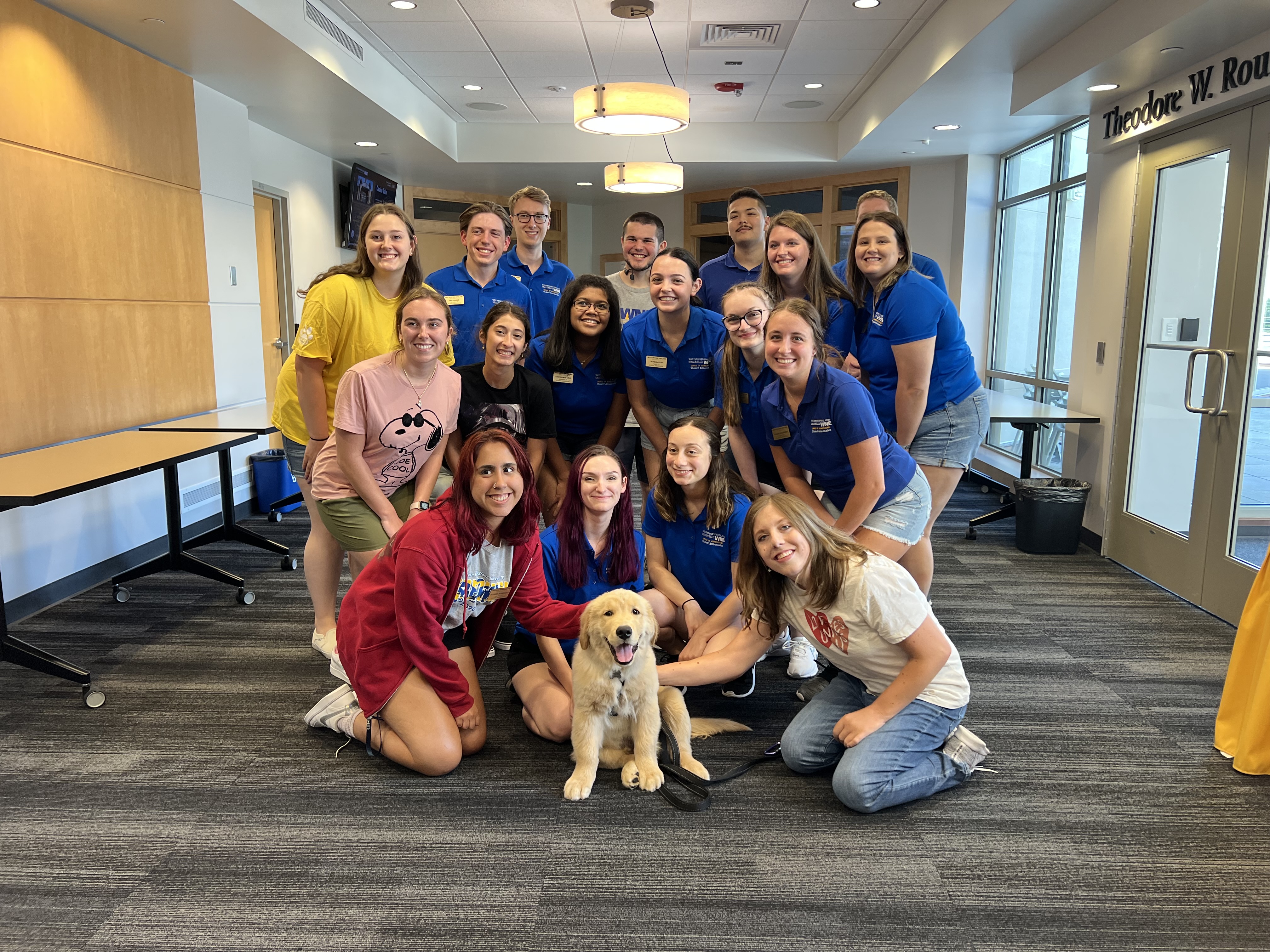 Bear's Training
When you see Bear around campus, you might notice his vest says "In Training." Bear and his handler, Sergeant Alexandria Capen-Parizo, have a long road of training ahead of them to mold Bear into the comfort dog we all know he is destined to be. 
Bear graduated from Puppy Kindergarten at Sandy Meadow Farms in Westfield on September 19, 2022.
Puppy Kindergarten works on basic commands including:
Sit

Down

Stay

Come

Touch

Heel
A special emphasis is placed on 
Play biting
Housebreaking
Socialization and
Chewing


Bear's next steps include training in:
Basic Manners

Intermediate Manners

Canine Good Citizen training and certification

Therapy Dog training and certification
Bear will be around two years old by the time he receives his Therapy Dog certification, but don't worry! Bear will still be on campus during his training.