ONE UNIVERSITY, ONE VISION
THE FRAMEWORK
Our VISION directs our strategic focus for the next five years and is supported by five THEMES that permeate and empower the vision and are operationalized through INITIATIVES buttressing the five themes, with results delivered through annual TACTICS with assigned METRICS, RESOURCES, and ACCOUNTABILITIES.
Once delineated, we have an established strategic direction for the next five years, and each year, the tactics we develop serve as the building blocks of our annual work plan. Through this approach, each year's work plan ties into and aligns with our vision and five-year strategic direction.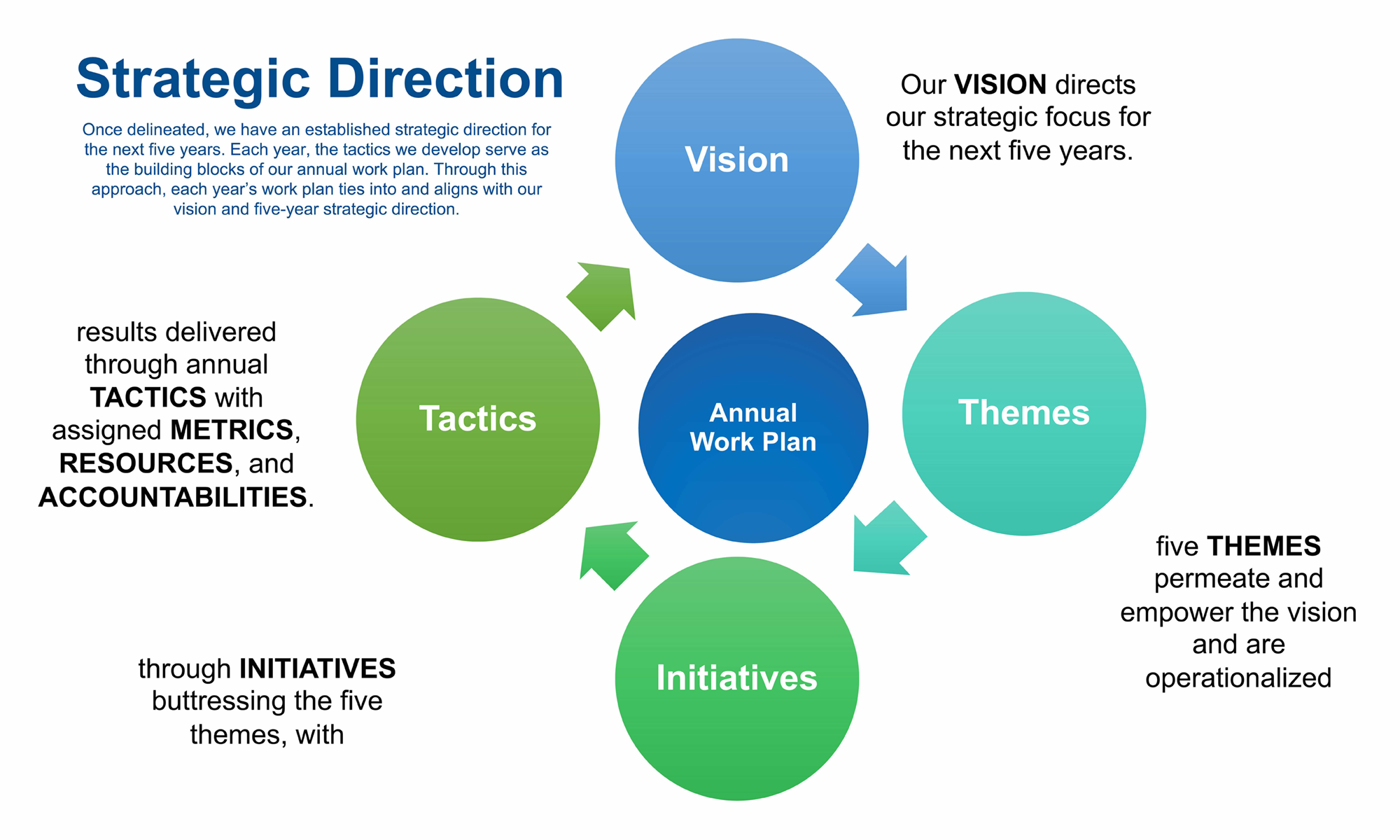 OUR VISION DIRECTS OUR STRATEGIC FOCUS FOR THE NEXT FIVE YEARS
One University, One Vision
As Western New England University enters its second century, we reflect on our institution's rich history and cherished traditions while boldly confronting the challenges and leveraging opportunities the future presents.
In the competitive higher education industry, institutions that embrace innovation as a mindset will thrive and WNE will be among them. While each of our four colleges and School of Law present unique assets and contribute to the vibrancy of the University, we aspire, through our shared ambition, to become One University with One Vision.
We strive to be a pacesetter among national universities with the advantage of being comprehensive yet personal, private, and nimble. By respecting our traditions, capitalizing on our strengths, and with a willingness and drive to be entrepreneurial, we will differentiate ourselves in the marketplace.
We will be known as a 'New Traditional University,' defined by our agility and motivation to create value as we seek an intentional and enriching approach in all aspects of the academic and co-curricular student experience.
As one university with one vision and a shared ambition, we are poised to respond adeptly to the challenges and opportunities of the future.  By so doing, all members of our University community—students, faculty, staff, and alumni alike—will benefit.
Vision Statement
Our vision statement guides us—providing the overarching strategic focus for Western New England University over the next five years. 
"Our vision is to be a 'New Traditional University' that is agile, grounded in professional studies, and enhanced by the liberal arts and mentored research, that provides graduates with the skillset and mindset to continuously create value throughout their professional career and assert their humanity in contributing to a global society."


OUR VISION IS SUPPORTED BY FIVE THEMES THAT PERMEATE AND EMPOWER THE VISION


FIVE THEMES
The following five themes permeate our vision, empowering and giving life to the vision. They represent what is necessary to achieve the vision across the University, making the vision actionable in a comprehensive and cohesive way—across the institution. They provide the holistic focus to ensure that all students receive the best possible education and student experience and graduate with a competitive career advantage.

Theme One: Provide a Student-centered Experience


Theme Two: Become a Laboratory for Academic Innovation


Theme Three: Promote Innovation and Transformation


Theme Four: Create Diversity, Equity, and Inclusion


Theme Five: Enhance Culture and Excellence

FIVE THEMES ARE OPERATIONALIZED THROUGH INITIATIVES BUTTRESSING THE FIVE THEMES 
Initiatives for Each Theme
Theme One: Provide a Student-centered Experience

Ensure

 

every student graduates with a competitive advantage and a unique value proposition

Establish

 a streamlined signature common core curriculum for the three undergraduate colleges

Anchor

 

the WNE narrative in developing the whole person who has a global view

Emphasize

 personal brand building, and the ability to articulate it, through activities woven through curriculum and co-curriculum

Focus

 

on completion, retention, and progression and eliminate friction and barriers

Engage

 and mobilize alumni, donors, and volunteer leadership in support of an exceptional student experience

Provide students a personalized experience in discovering their unique "why" that prepares them to continuously create value and contribute to a global society.



Theme Two: Become a Laboratory for Academic Innovation


Create

 

an applied and experiential teaching and learning infrastructure

Form

 

a best in class hybrid and online learning platform

Graduate

 

all students who are prepared for the future, with essential human attributes and a value-creation orientation that cannot be replicated by an algorithm

Establish

 an Office of Mentored Research, Innovation, and Sponsored Projects that will operate on a self-funding basis

Launch

 competitive innovation and bootstrap funds for teaching and scholarship

Articulate a path forward for internationalization, global citizenship and cultural competence



Theme Three: Promote Innovation and Transformation

Create

 infrastructure to approve new programs and research support

Invest

 

in multidisciplinary programs, centers, institutes, and experiential teaching and learning

Augment

 

signature academic programs

Integrate

 

living, learning, community engagement, and leadership opportunities

Establish

 an entrepreneurial, shared revenue model for new programs

Refine

 

identity and articulate a path forward as an agile 'New Traditional University'



Theme Four: Create Diversity, Equity, and Inclusion

Recognize

 

diversity as a strength and a business imperative

Make 

 

the ethos of our culture inclusive for all students and employees

Instill

 

and promote civility with a sense of humanity throughout the organization

Establish

 a starting point for diversity, equity, and inclusion as outlined in JEDI (Justice, Equity, Diversity, and Inclusion) Strategic Framework (AY2022-23 through AY2027-28).

Undertake the goals and objectives of the JEDI Strategic Framework AY2021-22 that serves as the plan of work for the current year



Theme Five: Enhance Culture and Excellence

Inspire

 

an efficient, collaborative, and results-oriented culture among faculty and staff

Invest

 

in people and infrastructure

Transform

 

the technology environment

Reorient

 evaluations, promotion, and tenure to institutional priorities

Cultivate

 

faculty and staff development and retention

Streamline

 

student processes

Embed

 "Lessons Learned from the Pandemic" as part of our new way of doing business as an agile New Traditional University