The Western New England University College of Business launched a pilot program in February 2016 to train and certify students to become Microsoft Office Specialists (MOS). The pilot program identified five freshmen students who recently completed the BIS 102 course with honors. The students were asked to volunteer for five weeks of intense training and testing to receive the Global certification. All five students successfully completed the certification program including, Sport Management majors Janell Lewis, Jake Taylor and Ryan Smith, Management and Leadership major Ezra Kaim, and Business major Ryan Glynn (pictured below).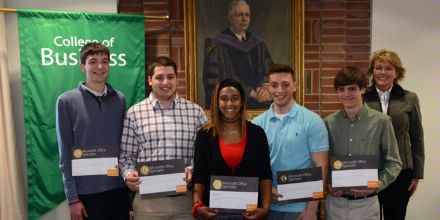 Janell Lewis explained, "Most people who use Microsoft Excel only use a very small percent of its capability, and this special training helped us become proficient with the software, and that's important when applying for a job or an internship."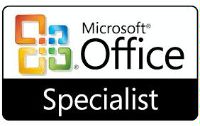 "I know this certification is useful," said Ezra Kiam. "After updating my resume last week, I applied for a job yesterday and was hired today, because I had these new skills."
"While I was home over spring break, I helped my dad's business recreate some of their databases using my new skills," said Jake Taylor. "As a business major I need strong software skills and this training really boosts my value."   
College of Business Adjunct Faculty Heather Brennan explained, "The academic and professional worlds make extensive use of credentials, such as training certificates, diplomas, and certifications, to validate a job applicants skills. The Global Microsoft Office Specialist (MOS) credential is the leading IT certification in the world, with more than 1 million MOS exams taken every year in over 140 countries. The University is exploring the possibility of including this certification within select College of Business majors."
"I work in the provost's office on campus," said Ryan Glynn, "and yesterday I showed my supervisor how to restructure a university database, which resulted in saving her significant time. She was thrilled."
For more information about the academic programs offered in the University's College of Business click here.