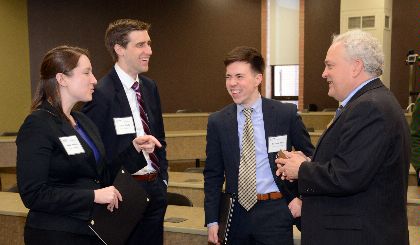 The New England regional Transactional Law Meet was recently held at the Western New England University School of Law. Blake Law Center hosted twelve law schools from across the country, each with a team of students prepared for the intense competition. Transactional Law Meet is a competition for law students who aspire to become deal lawyers.  Over the course of eight weeks, a team is assigned one side or the other in a transaction, interviews the client on their side of the deal, drafts a deal document to advance the client's position, then receives a draft from opposing counsel which they must mark-up. Finally, the sides meet at a regional competition to negotiate the deal face-to-face in front of two transactional lawyers serving as competition judges.  
The New England Regional competition was sponsored by the financial firm of GW & Wade, LLC, and is one of seven nationwide competitions that determine which teams move on to the national meet in New York City.
The participating law students were able to experience simulated hands-on transactional negotiations with other law students, while judged by a team of 12 experienced attorneys. The Law meet is intended to give students the chance at a real life application of their transactional law skills.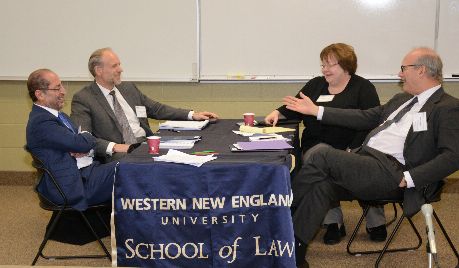 After the student competition was completed, four of the attorney judges (photo above) demonstrated how they would negotiate the deal for all the student teams to observe and learn. They included Joseph S. Aboyoun, L'78,Partner, Aboyoun & Heller, LLC, Christopher J. Rixon, L'88, Partner, Reid and Riege, P.C., Kathleen M. Porter, L'90, Partner, Robinson & Cole, and Stanley Cohen, L'76, Principal, Offices of Stan Cohen.
Law student Michael Sanders from Hofstra University explained, "This was an exceptional opportunity for us to be competitive and gain practical experience at negotiating complex deals. After each negotiation session, we received great feedback and learned what we could have done better." Sanders's team mate, Leron Solomon added, "Going through the whole process from start to finish was an extremely productive process." The top teams were awarded certificates for different aspects of their negotiations.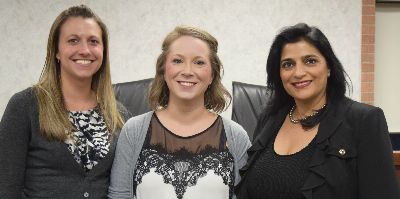 The team of law students from Western New England University competed in the Mid-Atlantic Regional Competition held in Philadelphia on the same day as the New England Regional Meet was held on campus. The team included Kristin L. Goodchild, Kathryn Trogdon, and Rachna Khanna (photo above). 
With a total of 84 law school teams competing nationally, the Western New England University team finished as regional semi-finalists. The team's faculty advisor is Law School dean Eric Gouvin, who helped coach them along with coaches Tatenda Chitemerere L'15, and Kelvin Thomas L'14.
To view and download more photos of the Transactional Law Meet competition click here.