The 7th annual University Public Speaking Contest took place on Friday, April 22. The event, sponsored by the Department of Communication, is open to all undergraduate students. This year, students were tasked with crafting informative speeches of approximately five to six minutes in length about any subject of the speaker's choosing.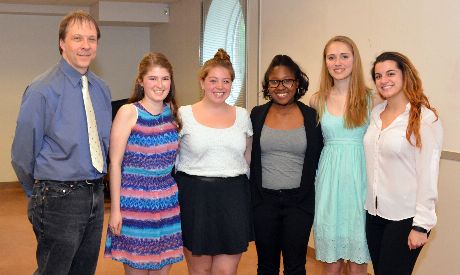 Dr. Doug Battema, Megan Pantos, Mallory Paszkiewicz, Kiara Don, Kaitlin Armstrong, Gianna Comparone
Megan Pantos, a freshman pre-pharmacy major from Rutland, MA, won this year's contest. Her speech, "Career Paths in Pharmacy," earned her the top prize of $100 cash.
Second place went to "Yawning," written and presented by Mallory Paszkiewicz, a freshmen majoring in pre-pharmacy from Schenectady, NY.
Kiara Don, a junior communication major with a concentration in professional communication from Massapequa, NY took third place with her speech, "United and Mutually Equal (UME)."
Honorable mention went to Kaitlin Armstrong, a sophomore pre-pharmacy major from Bolton, CT for her speech on ethical ambiguities in the drug development process, and Gianna Comparone, a freshmen health science major from North Providence, RI, for her speech on the dangers of opiates.
Department of Communication faculty, who selected the five most promising speeches for presentation during the contest, initially reviewed all the submissions. Members from the Western New England University Chapter of Toastmasters International judged the final speeches, including Professors Joseph Gerard and Karl Petrick, and Copywriter Alexandra Lyman.