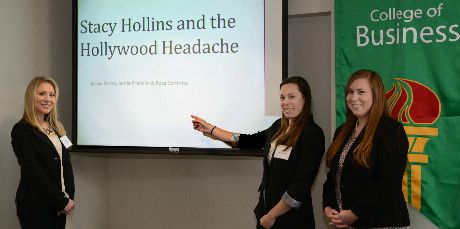 Rosa Contrino, Jamie Franklin, and Jackie Sarno
The Western New England University Senior Management and Arts and Entertainment majors in the College of Business had the unique opportunity to receive practical guidance and advice as they participated in typical employee-management simulations during the College's 9th annual RealTest Event. "Students frequently comment that this activity is one of the best in their college experience," explained Professional Educator Jack Greelry. "Most volunteer alumni coaches return to participate year after year, and consider the event to be of great value to students, and a satisfying way to continue being a valuable part of the Golden Bear community."
Activities included a mock interview and a problem-solving scenario based on a real case study, with alumni serving as their coaches and mentors. Students also delivered PowerPoint presentations and received feedback from alumni. The event was organized by the Department of Management with support from the Office of Alumni Relations.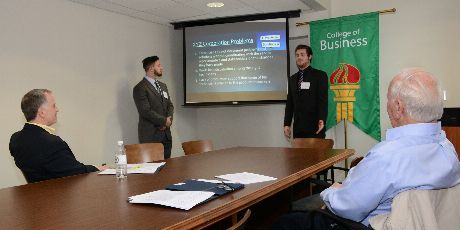 Blair Cook and Alex Campanelli
Management and Leadership senior, Alex Campanelli remarked, "The RealTest program was exhilerating, and it was challenging. All of the participating coaches gave us a reality check on how the business world operates in real life. They provided us with constructive criticism for which I am grateful."
For more information about the College of Business academic programs, please click here.