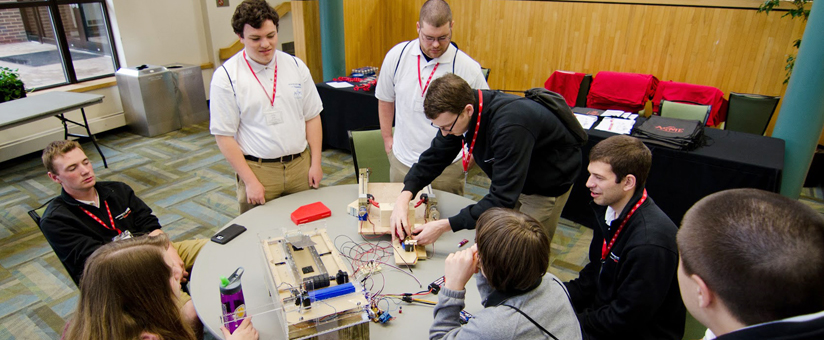 Western New England University recently sent 26 students from the University chapter of the American Society of Mechanical Engineering (ASME) to compete in the regional ASME Student Design Competition at Rutgers University in New Jersey.
ASME is a nonprofit society that combines engineering disciplines to help the global engineering community develop solutions to benefit society. There are over 130,000 members of ASME across the globe ranging from college students to corporate executives. The University teams worked on the design of their robots last fall, and have been begun building and testing them all winter and spring.
To help guide the students David Greenslade, a Ph.D Candidate in the Engineering Management Program, provided invaluable guidance and support of our students during the past year. All their hard work paid off, as students Josh Holley, Zach Kusnierz, and Adam Testa (pictured below) won third place in the Student Robot Design Competition. Senior Thomas Kennedy came in second place in the Old Guard Oral Competition, and senior Nathaniel Bodnar came in fifth in the same competition. President of Western New England's ASME chapter, Paul Mazza, also won the first place award in the Best Use of Advanced Manufacturing Paper Competition.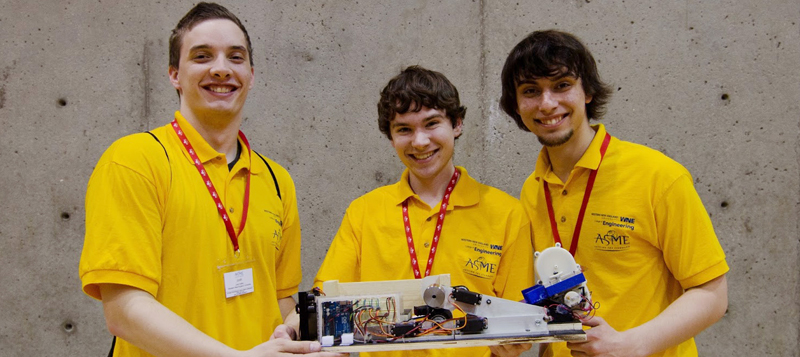 The following students were part of the ASME robot teams:
Nick Mortimer, Paul Mazza, Joe Letendre, Andrew Baker, JP Kirkitelos, Anthony DeVita, Will Smith, Myles Bouchard, Kimmy Pocwierz, Jacob Lyngdal, Gavin Colwell, Curtis Shortt, Tyler Stauble, Derek Kresevic, Megan Ilnicky, Dan Werenski, Michael Milenski, Evan Rourke, Patrik Landor, John O'Reilly, Brandon Velasquez, Joe Martoccia, Gage Riccio, Matthew Nichols, Josh Holley, Zach Kusnierz, Sam McLaren, Nick Suchocki, Joe Connors, Adam Testa, Nate Blanchette, and Colby Skilton.