The Western New England University's Stageless Players drama club recently presented three performances of Legally Blonde the Musical in Wood Auditorium to cheering crowds. "I am thrilled and inspired. Legally Blonde surpassed my expectations," exclaimed Associate Professor of Drama Hillary Bucs, "Friday night we had amazing energy from the entire drama company and Saturday night's show was extraordinary. Every year I feel we have raised the bar on what we have done previously."
Legally Blonde follows the story of Elle Woods, played by senior Elizabeth Grosse, as she follows her former boyfriend to Harvard Law School and learns that she's more than just a pretty face, and that law school is where she belongs. The cast and crew loved the play as much as the audience enjoyed watching it. "I love the songs," said sophomore Mark Shelanskas, who sold tickets and was part of tech crew, "My two favorites are 'Gay or European' and 'Chip on Your Shoulder,' and the audience reactions have been great."
Junior Kristen Dansereau, who played Vivienne Kensington, thought the audience was energizing. "They were laughing at everything and saying 'oooh' whenever I walked onstage. I got to play the mean girl, and this is the biggest role I've ever had."
Junior Jeff Massicott, who played three parts, Elle's Dad, Professor Winthrop, and a member of the Ensemble, was really proud of how well everyone did. "We sold out two of our three shows, and I think that's the best we've ever done with sales, so I'm thrilled too," he said. The Stageless Players club inspires a sense of community and accomplishment in its members. "I like the strong comradely aspect of the club and how it has a real family feel to it," added Massicott.
Dansereau believes her involvement in the drama club to be a confidence booster. "I get energy from being onstage and a confidence I don't have in real life," she explained, "It makes you feel really good about yourself."
"Legally Blonde was our most successful show to date because it was our largest cast, largest show, the most number of intricate set changes, and it had a powerful message that everyone in the company could stand behind," added Professor Bucs.

To view a list of all cast and crew members click here.

Massicott will continue as the president of Stageless Players next fall. His plans are to take Stageless to award shows. "I know Stageless used to do that, and we haven't done that since I've been here, so I'd really like to see that start up again," he explained.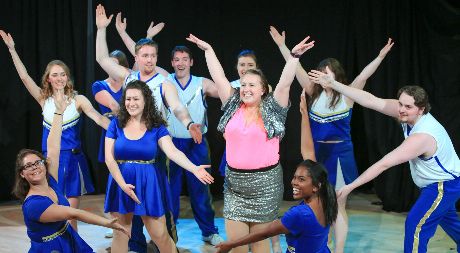 Senior Elizabeth Grosse, who has played many roles in club performances, including Dorothy in the Wizard of Oz and the lead role in Legally Blonde reminisced, "I have enjoyed watching the Stageless Players grow over these past four years. The club has improved so much, and we have become a real family to each other. I'm going to really miss all of the cast and crew. I have met all of my best friends through this club."  
To view and download performance photos click here.