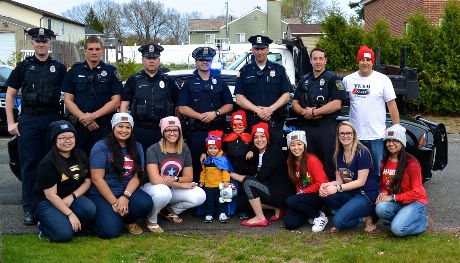 Standing: Officers Tierney, Furney, Smolinski, Quiterio, Harrington, Knox, Paul Pereira (Xavier's father) Front: Dasom (Sarah) Shin, Reesha Brodeur, Juliette Cormier, Keanu (Xavier's little brother), Xavier, Michelle Pereira (Xavier's mother), Nicolle Ledesma, Desirae Daniels, Savitri Modi
Four year old Xavier Pereira of Ludlow MA, was given a super day on April 28th when Western New England University Pharmacy students paid him a visit to celebrate National Superhero Day. The students are members of the Love Your Melon Campus Crew Program, a new campus wide organization that started this spring.
Love Your Melon is dedicated to giving a hat to every child battling cancer in America as well as supporting nonprofit organizations who lead the fight against pediatric cancer. Love Your Melon "Campus Crews" are made up of students that are determined to improve the lives of children battling cancer. In communities across the country, Love Your Melon Campus Crew Members raise awareness for childhood cancer and engage with the organization's charitable programming initiatives like National Superhero Day. The program has grown to include over 11,000 Crew Members nationwide at 736 different educational institutions.
Xavier Pereira was just 2 years old when he was diagnosed with acute lymphoid leukemia. Now 4 years old, Pereira is energetic, loves to play and laugh, and is doing very well.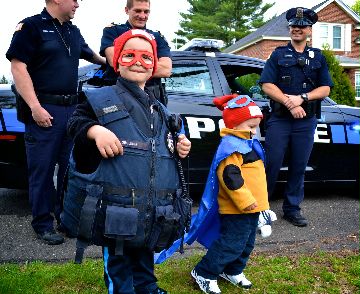 "I can't even imagine the pain and sacrifices these children been through at such an early age, but they still manage to smile, laugh, and even make other people happy reminding us that life goes on. They are truly an inspiration and deserve all the best in the world," says Love Your Melon crew captain, Nicolle Ledesma. 
Superhero Day began at the University of Minnesota Masonic Children's Hospital with the goal of putting smiles on the faces of children undergoing treatment. The goal of this particular event is to give children battling cancer an unforgettable experience and recognize them as true heroes for being so brave.The day was a success thanks to donations from various local businesses, including Big Y on Cooley Street, Best Pizza in Ludlow, and local toy stores. In addition, 6 officers from the Ludlow Police Department visited Pereira, who dreams of becoming a police officer one day. 
"Xavier's joy and excitement represent one of the many inspiring children that Love Your Melon has supported. It is my hope that our collective work goes beyond our individual event and helps raise support and awareness for pediatric cancer patients worldwide," says Ledesma.