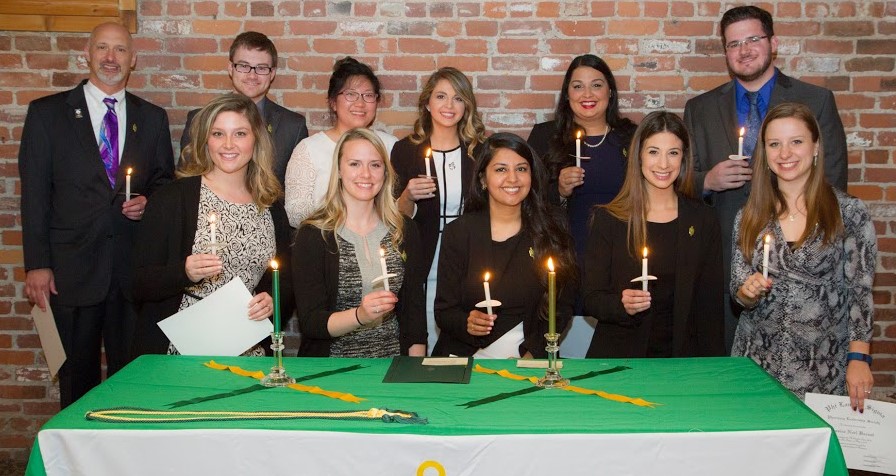 Phi Lambda Sigma (PLS), Western New England University's chapter of the Delta Rho Honor Society, which is the leadership society for pharmacy education, held its second induction ceremony in May 2016. The ceremony was attended by PLS members, learners, alumni, and faculty members, all of whom participated in the induction of 11 new members into the Society. Included were three members of the Class of 2017, seven members of the Class of 2018, and one faculty member, Dean Evan Robinson. 
These new inductees join 26 previously inducted learners as well as five faculty members. The event was sponsored by CVS Health, which was represented by Manager of Professional and College Relations, Jimmy Gallagher, Intern Program Manager, Wendy Perreault, and Intern Program Manager, Donna Lucia.
The mission of Phi Lambda Sigma is "to support pharmacy leadership commitment by recognizing leaders and fostering leadership development." The Society aims to ensure the continuing availability of student and practitioner leaders for the profession of pharmacy and acknowledge leadership achievement.
Western New England University's College of Pharmacy prepares learners for their role of "Pharmacist as Educator." The cross-disciplinary approach to teaching includes the theoretical and practical aspects of pharmacy, and also promotes the development of leadership, professionalism, advocacy, and a commitment to community service. Combined degrees are offered in collaboration with the College of Business through the PharmD/MBA and PharmD/MS in Organizational Leadership for students who see their future in leadership roles.