Email
Western New England University uses Microsoft 365 Exchange Online to handle email, calendaring, and contacts. Here's what you need to know.
Webmail Tutorials
For instructions on how to log in to Outlook Web Mail, please see our Outlook Login Tutorial.
For more information about using Outlook Web Mail with your phone or mobile device, please see our Outlook Mobile Tutorial.
If you use the 'Notes' APP on your iOS device, review the iOS Notes tutorial on where your Notes will be located once your email is moved to the cloud.
Outlook
Microsoft Outlook is the email software installed on your office computer by Office of Information Technology staff, who will also configure it to connect to Microsoft Exchange Online. In addition to handling email, Outlook also includes a calendar, task manager, contact manager, and notes. Outlook is generally used only by employees with an office on campus. Outlook is widely used by businesses and higher education, and so you'll find lots of helpful information on the web.

What is Outlook Web Mail?
OWA
OWA stands for Outlook Web App, and it is how email, calendar, and contacts are managed through a web browser. Login at https://outlook.office.com with your Western New England University UserID@wne.edu and password combination.

How can I control junk email?
JUNK
To mark a message as Junk, a Phishing scam, or to block a sender, right-click on the message and you should see the following: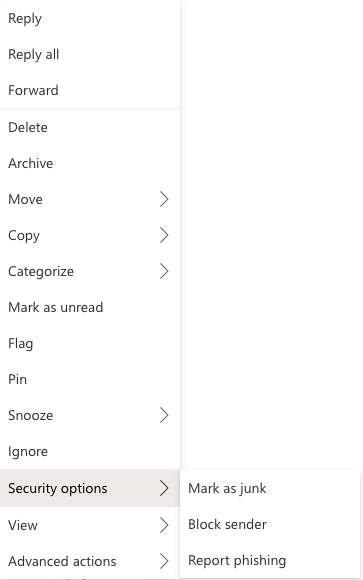 Under "Security Options," select the appropriate action, Mark as Junk, Block Sender, or Report Phishing.
How can I access email from my phone or tablet?
Mobile devices
If you use a mobile device (iPhones, iPads, Android device) to access your email, you must use the Outlook App to access WNE email and calendars. You may use the Outlook App for Apple or the Outlook App for Android.
You can then add an account to the Outlook App, using your email address and password.
Alumni and Retiree Email Forwarding
Email Forwarding
Click HERE for information and instructions to enable Email Forwarding.
Outlook Web Mail Features
How to create a contact group in Outlook
Create a contact group in Outlook
If you need to create a contact group in Outlook, this video tutorial will walk you through the process, step-by-step.