Western New England University offers Wireless network access throughout the campus and in all residence halls.

Staff, faculty, and students should select the "WNE" wireless network and then go to the Internet to authenticate using their University User ID and password. They will only be required to authenticate to the "WNE" network one time per semester.

Guests only have access the "WNEGuest" network. Although the WNEGuest network does not require authentication, access to some University systems may be limited or denied from that network.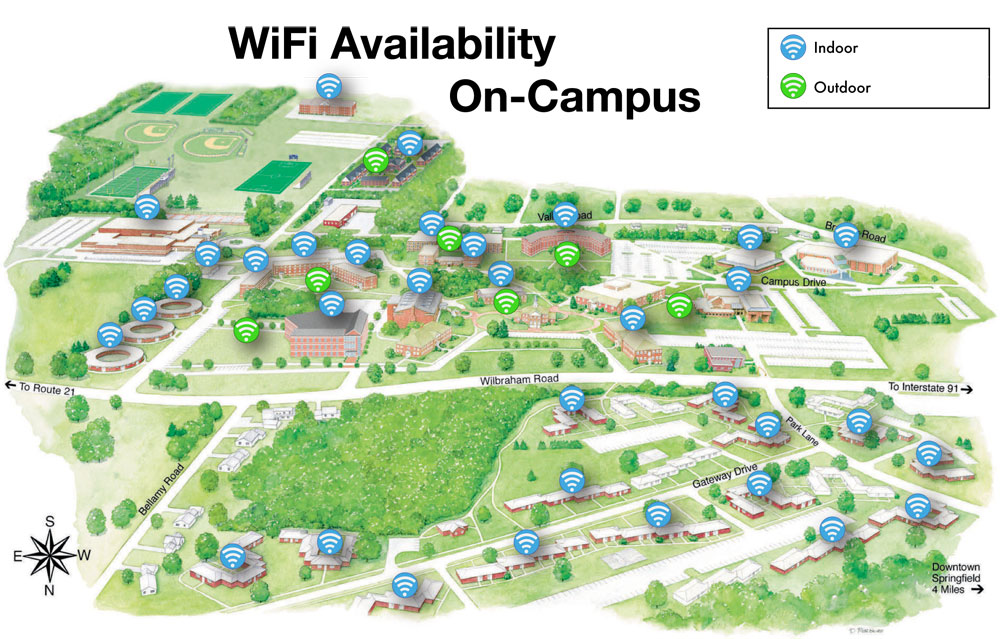 In addition to wired Internet connections, WiFi is available throughout campus. Below is a list of locations:
Indoor
Alumni Healthful Living Center
Berkshire Hall
Center for the Sciences and Pharmacy
Churchill Hall
Commonwealth Hall
D.J. St. Germain Campus Center
D'Amour Library
Evergreen Village Townhouses
Franklin Hall
Gateway Village Resident Apartments
Hampden Hall
Herman Hall
Kevin S. Delbridge Welcome Center
Plymouth Residence Complex 
LaRiviere Center
Public Safety
Rivers Memorial
S. Prestley Blake Law Center
Sletih Hall
Southwood Hall
Windham Hall
Outdoor
Center for the Sciences and Pharmacy Lawn
Commonwealth Hall Lawn
Evergreen Village Townhouses  Lawn
Gazebo/Onion Lawn in front of Churchill Hall*
Lariviere Seating Area
Quad Lawn
Sleith Hall Lawn