Organizations
Opportunities for on-campus involvement are abundant at the School of Law. Because of the close-knit community here at Western New England University, you will be able to step up as a leader and gain valuable experience from our school-sponsored organizations. The list of student organizations changes every year, based on the activities and interests of current students. The law school provides a budget and administrative resources to approved student organizations.
Alternative Spring Break Club
Volunteer over Spring Break
The Alternative Spring Break Club gives you the opportunity to provide public service while gaining valuable legal experience and fostering relationships with public interest legal organizations and government agencies across the nation. Each year, members spend their spring break providing law related service to people in need, while also fulfilling the School of Law's pro bono graduation requirement. Since its inception in 2007, students have traveled to Nashville, TN, Biloxi, New Orleans, the Navajo Indian Reservation, South Texas, Chicago, Las Vegas, and San Antonio.
Become a Member of the Largest Legal Association in the Nation
The American Bar Association (ABA) is the largest national legal association in the world, with endless opportunities to connect and network with law students, experienced attorneys, judges, and other legal professionals. The ABA is the voice of the legal community, offering career-building opportunities, advocating for the profession, and promoting the rule of law worldwide. As an ABA member, you will receive career guidance, make connections with the law community, and participate in training and education. In addition, you will have access to exclusive deals, perks, and discounts just for being a member.
Notable Events:
ABA Law Student, 2016-17 Negotiation Competition Region 1
View Law Note article here. View "Negotiation Teams, Make a Clean Sweep at Regionals"
article in Perspectives Spring 2017.


November 14, 2015
ABA Law Student Division, 2015-16 Negotiation Competition Region 1
View photos here.
Asian Pacific American Law Student Association
APALSA
APALSA is a new club that was created for WNE law students of any background that have an interest in Asian culture, promoting diversity in law and advocating for the AAPI community in Western Massachusetts. The club intends to do this through cultural events, discussion panels, working with local and state AAPI organizations, and mock classes and workshops for undergrads of color interested in a career in law.
If you are a law student interested in joining APALSA, please add APALSA by using your student TWEN page to sign up and stay up to date on events.
If you are a member of the AAPI community in search of resources, please click here for the list of resources APALSA has created:  https://docs.google.com/document/d/1xZThkkTlYgEmvLoRYNMUcXGiwAyvMjBP/edit?usp=share_link&ouid=103877263096586347881&rtpof=true&sd=true
If you need to contact APALSA, please email us at WNE.APALSA@gmail.com. Please note that this email is only checked weekly. We apologize for the inconvenience.
Please support APALSA by following us on Instagram: @wneapalsa
Black Law Students Association
Unite the Law Community
The Black Law Students Association (BLSA) is a community of students and faculty dedicated to the advancement of diversity within the legal community. The mission and purpose of this organization is to articulate and promote the educational, professional, political, and social needs and goals of Black law students; to foster and encourage professional competence; improve the relationship between Black law students, Black attorneys, and the American legal structure; instill in the Black attorney and law student a greater awareness and commitment to the needs of the Black community; influence the legal community by bringing about meaningful legal and political change that addresses the needs and concerns of the Black community; and impact the culture of the School of Law. As a member, you will have the opportunity to participate in the BLSA's Mentorship Program, Community Outreach Programs, and various networking events with other BLSA chapters around the country.
YEARLY EVENTS:
A Day In The Life of A Law Student- Every year BLSA members are shadowed by local high school students for a day to give insight on what law school is like. This program is a great way to get involved with the community and mentor aspiring law students.
Apparel Sale- Every year BLSA sells School of Law apparel such as t-shirts, sweatshirts, baseball hats and more to fundraise for future BLSA events.
Professional Development Week- Every year BLSA hosts a week to help law students understand how to network and interview. This week consists of various events partnered with Career Services and includes a professional headshot day.
PAST EVENTS:

April 6, 2017
BLSA Member Marketia Wright is honored by the Massachusetts Black Judges Conference and the recipient of the 2017 Annual Book Awards Program. View Law Note here.  View photos here.


Business Law Association
The Business Law Association was founded in 2019 by several 1LS whom wanted to provide resources for law students to learn and network within the Business Law field. Business Law Association's (BLA) goal is to provide law students a platform where academics and the corporate world meet. Students will be able to speak with business law professionals and learn from their experiences. The various events focus on what to expect from this line of work. We encourage students whom are interested in business law to come learn about the legal issues that occur in the transactional world, to become more aware of the reoccurring issues in this field.
Combine your faith with your study of law
The Christian Legal Society is a student-oriented and student-led group affiliated with a national organization of over 10,000 lawyers and students. The Western New England chapter exists to inspire, encourage, and equip lawyers and law students, both individually and in community, to proclaim, love and serve Jesus Christ through the study and practice of law, the defense of religious freedom, and the provision of legal assistance to the poor. The society seeks to help Christian law students integrate their faith with the law through regular group study and fellowship of God's word, mutual support and various sponsored speakers and workshops. The chapter also recognizes that the Christian faith is dynamic and vital and seeks to make this faith available and comprehensible to the University community at large.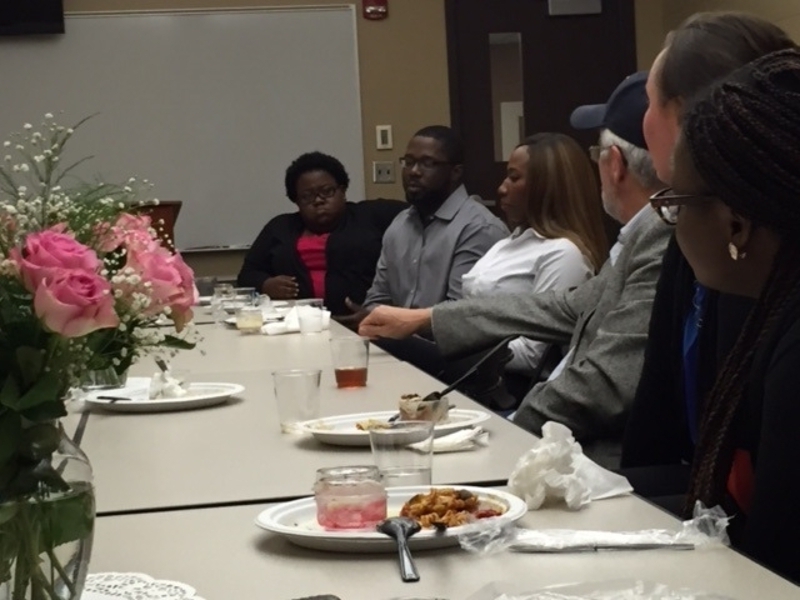 Environmental Law Coalition
Protect the Environment
The Environmental Law Coalition's (ELC) purpose is to spread environmental awareness throughout the School of Law and provide a forum for students to participate in projects regarding environmental issues. The ELC's aims are met by events held on campus, as well as working in tandem with nonprofit organizations within western Massachusetts.
Pursue Family Law
The Family Law Association provides opportunities for you to explore the field of family law, its multitude of branches, and its application in our communities.  The organization seeks to promote awareness about the issues that concern the practice of family law to the Western New England University School of Law community.  You will participate in and organize various events during the school year including the Teddy Bear Drive for National Adoption Day, volunteering at Friends of the Homeless throughout the school year, observing Springfield probate/family court hearings, and hearing from/networking with professionals in and around our community. 
Please contact Chelsea.Edinger@wne.edu for further information.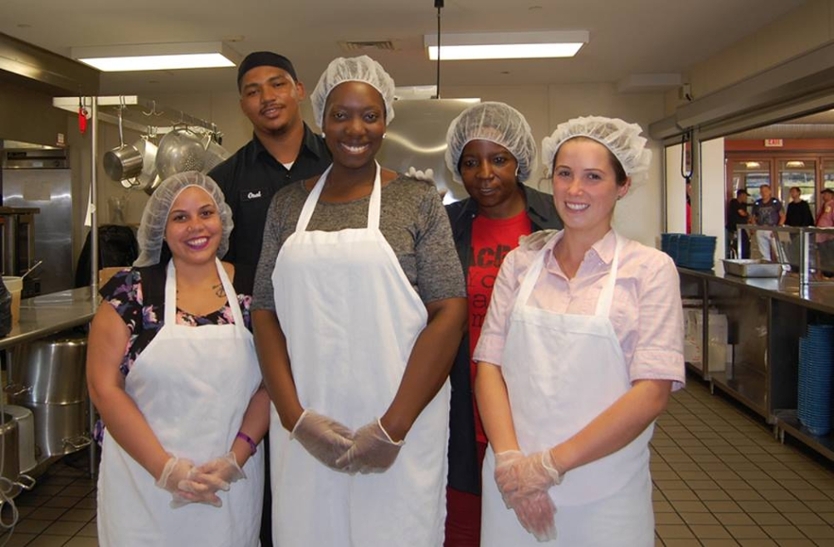 Learn about how the law affects healthcare
The Health Law Association (HLA) is an organization of students, faculty, and alumni dedicated to exploring the career opportunities and current issues in healthcare and law. The Health Law Association seeks to broaden student awareness by connecting you with practicing alumni, introducing you to internships, and presenting speakers to illuminate the law school community. You will also participate in a variety of health-related public service activities within the community.
Intellectual Property Law Association
Protect the world's innovations
The IPLA is dedicated to sparking interest in, and spreading knowledge about careers in Intellectual Property Law. IPLA hosts a variety of events throughout the school year, bringing students, alumni and local practitioners together to inspire future generations of professionals in the realm of IP law. Events include presentations and interactive panels with local practitioners, and collaborations with other student-run organizations. Legal principles covered in events include trademarks, copyrights, patents, unfair competition, and trade secrets. All members of the School of Law community are invited join us at one of the associations scheduled meetings to learn more.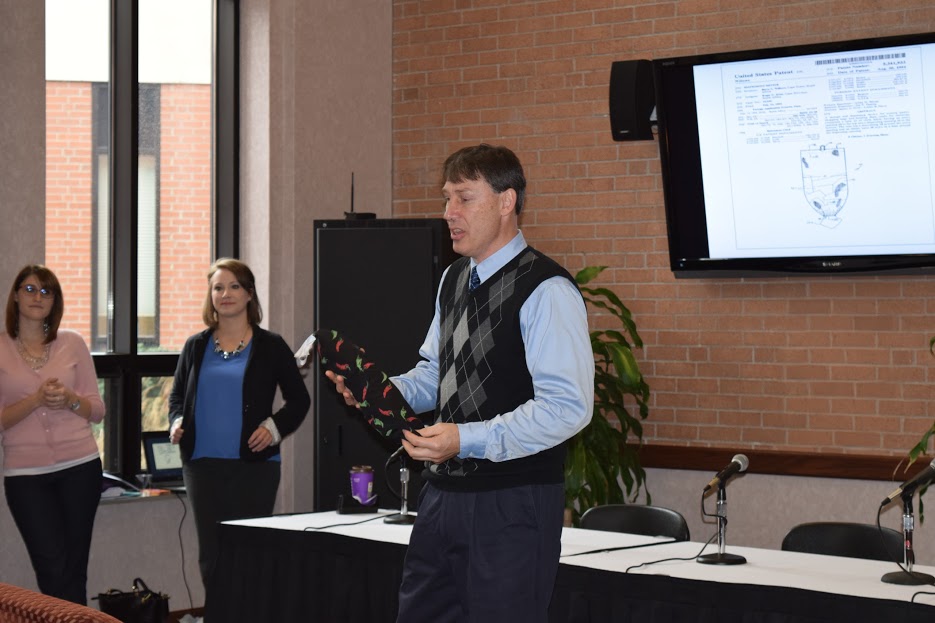 Latino/a Law Student Association
LLSA
The Latino/a Law Student Association (LLSA) is a community of students and faculty focused on the advancement of Latino/a academic success and commitment to community service, as well as a social support network to help students adjust to the demands of law school.  Our diverse membership includes Latinos from all over Latin America and the US, as well as non-Latinos. LLSA brings in speakers to discuss legal issues affecting Latinos in the U.S. and abroad. We also provide a means to serve the broader Latino community. We have created an Immigration Pro Bono Initiative, with local community partners, to assist law students in completing part of their 20-hour pro bono graduation requirement, while assisting community members prepare forms for their Naturalization application.  LLSA also recognizes the importance of building community not only within the organization but also with other members of the law school community; as such, we host alumni mixers, potluck dinners, and more.
Like us on facebook.
PAST EVENTS 2016-17:
March 22, 2016 - Latinos, Leadership and the Law Series - Representative Juan Candelaria
View lecture here.  View photos here.
November 9, 2016 - Latinos, Leadership and the Law Series - Representative Aaron Vega
View photos here.
November 15, 2016 - Latinos, Leadership and the Law Series - Representative Jose Tosado
View photos here.

PAST EVENTS 2015-16:
November 19, 2015 - LLSA Potluck Kickoff
View photos here.


Law Review
The Western New England Law Review
publishes critical pieces on contemporary legal issues. They produce one volume yearly, 
comprising two issues and one symposium issue, which peers keenly into a particular area of timely legal discussion.  Their publications include essays and articles from legal scholars and practitioners, and student Notes written by Law Review members during their first year on the Editorial Staff. 
Lex Brevis (Student Newspaper)
The School of Law's student newspaper
Lex Brevis is the official student newspaper of Western New England University School of Law.  The mission of Lex Brevis is to serve the Western New England University School of Law community as a media outlet and informative periodical.  Its staff works diligently to provide high-quality content of an academic, legal, political, social, and cultural nature. 
Lex Brevis ultimately aims to provide a safe space for individuals within the law school community to "be heard" and write about current events affecting not only the local community but the nation at large. 
In 2003, Lex Brevis was recognized by the American Bar Association's Law School Division at their summer meeting with three honorable mention awards in the categories of Best Newspaper, Best Feature Article, and Best Editorial. 
We at Lex Brevis enthusiastically welcome submissions from all members of the Western New England School of law community.  Individuals who are not on the current staff may also submit content to our staff publication.
To contact us:
Editor-In-Chief, Lex Brevis
LexBrevis@gmail.com
Military Law Society
The Military Law Society is dedicated to promoting knowledge and awareness of military law issues affecting students, law professionals, and members of America's armed forces.
Click here to view the Military Law Society Constitution.
Western New England Chapter
The Western New England Guild is a student chapter of the National Chapter; we are a community of students and faculty working in solidarity dedicated to social justice lawyering.  Since the 1930s, the National Lawyers Guild has worked to advance human and civil rights, working under the motto "human rights over property rights."
We are active members of the community advocating for those individuals affected by issues such as the prison-industrial complex, housing, and reproductive rights, among many others that affect marginalized and oppressed communities. We strive to use the law for social, political and economic justice and as an instrument for the protection of the people, rather than for their repression.  The Guild sponsors speakers on campus and co-sponsors events with other student groups.
Some of the activities the Guild is planning for next year include:
Noon-Time Chats: to include discussions surrounding issues of reproductive rights, religious objections
A radical reading group: book TBD
RebLaw: A social justice conference held at Yale in February
Cover Retreat: A social justice retreat held in New Hampshire in March
Legal Observing at protests
CORI Expungement Clinic: A collaborative effort with Public Interest Law Association
Social Events with radical students and faculty 
Like us on Facebook.
Past Events 2016-17:
NLG: Students Against Mass Incarceration Week, Feb. 29 - March 3, 2016:
Practitioner Panel Featuring: Buz Eisenberg, David Lanoie, and Professor Anne Goldstein
View photos here.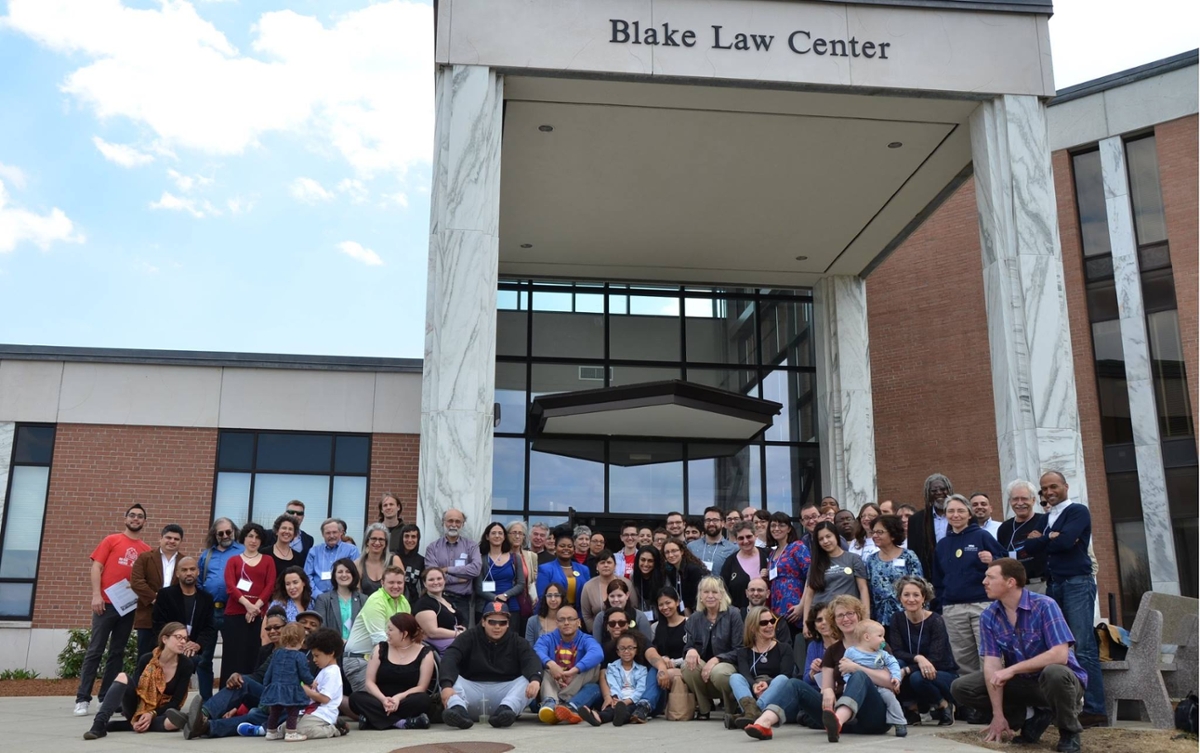 (Lesbian/Gay/Bisexual/Transgender/Queer)
Western New England University School of Law OUTlaw is a student group for lesbian, gay, bisexual, transgender, and queer students as well as student allies. The group focuses on awareness by hosting fundraisers for LGBTQ groups in the community as well as social events for Western New England University School of Law students. As a future goal, OUTlaw hopes to reach out to members of the LGBTQ community who are seeking legal help. OUTlaw welcomes all students and all ideas for keeping Western New England University School of Law an LGBTQ-friendly school.
OUTLaw Past Events
October 26, 2017
OUTlaw & Public Interest Law Assn 
"Coming Out" in the Workplace: Personal Narratives
View photos here.
November 5, 2018
OUTLaw Tabling Event: Voter Registration
November 6, 2018
OUTLaw Tabling Event: YES TO 3.
Discussion: Massachusetts Ballot Question #3.
Gender Identity Anti-Discrimination Veto Referendum on the ballot as a veto referendum in opposition to SB 2407 to repeat the law designed to prohibit discrimination based on gender identity in public places.
September 20, 2018
Reception: Massachusetts LGBTQ Bar Association 2018-2019 Welcome Reception.
Meet and greet in Boston with LGBTQ+ students and attorneys from area law school and firms. 
March 26, 2019
Panel Discussion: Fostering Equality in the Child Welfare System
Panel Leader: Joseph Sandagato, Massachusetts Adoption Resource Exchange (MARE).
Discussion: An overview of the child welfare landscape here in Massachusetts as it relates to youth in care and family engagement.  Discussions included past, present and future as related to the systems, protocols and real-life engagement of both LGBTQ+ identified youth and LGBTQ+ families.
October 24, 2019
LGBTQ+ Advocacy: The Path to Nonprofit Public Interest Advocacy.
Panel Leader: WNEU School of Law Alumnus Chris Erchull,
Staff Attorney for GLBTQ Legal Advocates & Defenders (GLAD).
November 7, 2019
OUTLaw Tabling Event: The Gay Panic Defense
Discussion: "Gay panic." When a heterosexual male is charged with the murder of a gay male and attempts to claim that the gay males's unwanted sexual advances led to the heterosexual's temporary diminished capacity.  Does the Gay Panic Defense have place in our legal system?
Phi Alpha Delta Law Fraternity
Phi Alpha Delta Law Fraternity
Phi Alpha Delta Law Fraternity, International is a professional law fraternity advancing integrity, compassion and courage through service to the student, the school, the profession and the community.  – Mission
We are the preeminent law fraternity promoting the bonds of fraternalism and we are the leader in development and advancement of professional ideals. – Vision
Bound together by tradition and our common interest in the law, we share these core values: Compassion, Courage, Professionalism, Service, Diversity, and Innovation. –Core Values
The purpose of this Fraternity shall be to form a strong bond uniting students and teachers of the law with members of the Bench and Bar in a fraternal fellowship designed to advance the ideals of liberty and equal justice under law; to stimulate excellence in scholarship; to inspire the virtues of compassion and courage; to foster integrity and professional competence; to promote the welfare of its members; and to encourage their moral intellectual, and cultural advancement; so that each member may enjoy a lifetime of honorable and public service. – Declaration of Purpose
Here at Western New England University School of Law, the Phi Alpha Delta Law Fraternity, International Middleton Chapter holds Phi Alpha Delta's mission and core values close to our hearts year round. With Phi Alpha Delta's vision being a constant goal, the Chapter hosts different events throughout the year and the number of our members is growing each semester. Compassion, Courage, Professionalism, Service, Diversity and Innovation are important values that we hope members live and practice by. 
Public Interest Law Association
Earn stipends for internships
The Public Interest Law Association (PILA) is a student group dedicated to providing summer stipends to students who have unpaid legal internships at nonprofit organizations and government agencies. PILA raises funds through an annual auction that it holds at the School of Law. In order to qualify to apply for the stipends, students must volunteer 10 hours toward the organization of the auction. View Auction photos here.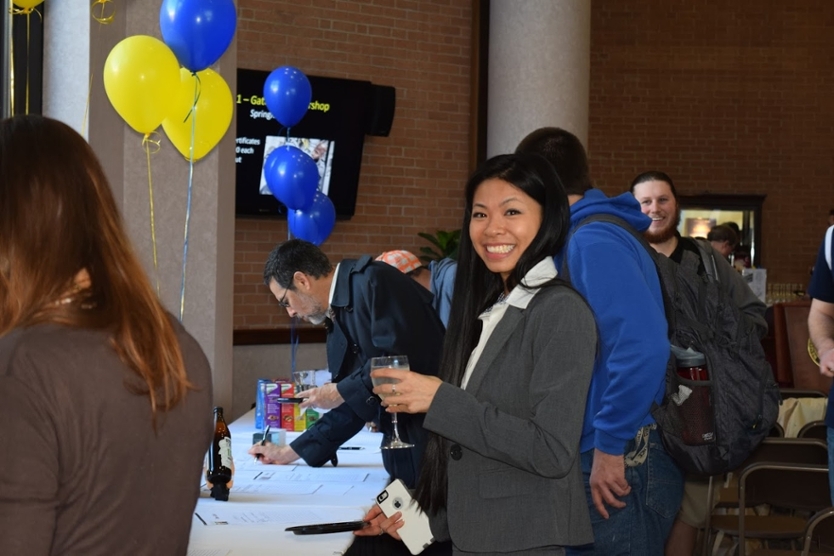 Sports and Entertainment Law Association
Learn about the various careers in Sports & Entertainment law
The Sports and Entertainment Law Association is a student run organization committed to increasing student interest in sports and entertainment-related legal issues and providing a venue for identifying career opportunities in this field.
Get involved in student government
The Student Bar Association is the official student government for the School of Law. The SBA Board serves as a liaison between the student body, the administration, and the faculty and also fills student representation positions on faculty and administrative committees, providing important perspective from the student body at large. The group also oversees the funding other student organizations, through budgetary hearings at the beginning of each semester, and provides social opportunities for students at several school-wide functions annually. Such events include our annual Basketball Tournament, Ambulance Chase, Barrister's Ball, and more. 
Empower women in law
The Women's Law Association of Western New England University School of Law (WLA) was created to motivate, inspire, and encourage women in the legal profession. The WLA supports and empowers women in the legal profession as well as in the community by focusing on legal, social, and cultural issues facing women in society. Specific goals of the organization include promoting a healthy environment for women in the law; maximizing career opportunities for WNE School of Law students in all areas of practice; bringing diverse, prominent, and influential women in the legal profession to speak to the law school community; and fostering an understanding of important legal issues women face in the legal profession. WLA is not affiliated with any political party, and accordingly has no politically motivated agenda. Membership in the WLA is open to any student at WNE School of Law, as well as any interested Law School Alumni, Faculty, or Administrators.